New kitchen now open at Woodford Community Centre
The Management Committee is pleased to announce that the kitchen refurbishment project at Woodford War Memorial Community is now complete with the help of a grant from WREN (Waste Recycling Environmental Ltd).
The kitchen was built in 1959 and, although various stages of refurbishment were undertaken over the years, many fixtures and fitting had become dilapidated. It was clearly in need of updating and had been on the refurbishment priority list for some time.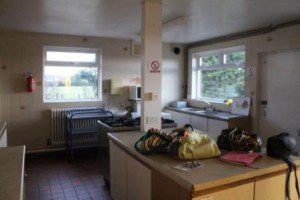 It is a valuable asset to the Centre which is used by hirers for a range of activities from making a simple cup of tea to the preparation of food for a wedding reception or a party for 200 guests.
The management committee is very grateful for the grant of £6,000 from WREN  which made a major contribution towards the costs of the project. To explain a little of the background: landfill taxes are charged on waste going to landfill to encourage greater recycling and more environmentally friendly methods of waste disposal. Landfill operators can opt to donate a small proportion of their taxes to the Landfill Communities Fund, which supports a wide range of community and environmental projects. WREN is a not for profit business that awards grants to community projects from funds donated by the landfill operator, FCC Environment, to the Landfill Communities Fund. Last year the WWMCC management committee were successful in an application for a grant from this fund towards the kitchen project.
Work began on 8th March 2014
Two weeks later the old units were out and the carcasses for the new units were installed.
We are lucky enough to have a qualified architect on the management committee who drew up the plans for the new kitchen. Quotes were obtained and the contract awarded to Blackwood Kitchen Ltd.
As the Centre is in constant use, one of the challenges was to find a slot when the work could be carried out. We would like to thank all our regular hirers for their patience while the kitchen was out of action.
The work was completed on schedule at the beginning of April, just in time for a wedding reception at the Centre!
Photograph album is here.
Share this page -