The Small Hall can be set up for your wedding vows renewal ceremony and then you and your guests move through to the Large Hall for the celebrations. The Small Hall sits approximately 70 people for a vows renewal ceremony. If more space were needed, an alternative would be to use the Large Hall for the ceremony with your guests sitting at round tables and either move through to a marquee on the field for the celebrations or remain in the Large Hall. The Large hall holds approx 200 people (up to 150 sitting at round tables or 120 – 130 plus a dance foor) and measures 50ft x 32ft. The Small hall holds 80 people and measures approx 36ft x 23ft
The Large Hall can be decked out with marquee linings which provides a complete transformation.
The hire of the Centre for a Saturday wedding is as follows:
The Large Hall will be available from 2pm on the Friday afternoon so that you may dress the hall. The whole Centre is available from 8am Saturday morning through to Sunday lunchtime.
If you would like to get an idea of availability and how it all works please take two minutes to complete our preliminary wedding enquiry form and we will get back to you asap.
An outline guide to costs are as follows: Basic Hire of the Centre £1250, Basic hire but with the Large Hall lined out in marquee linings £1750 (installation, cost and hire of marquee linings is in addition to the £1750), Hire of Centre with marquee / teepee on the field £1750 (installation and cost of marquee / teeepee is in addition to the £1750). As stated, these are outline costs, you may require other facilities which would incur additional charges so do please contact us before taking it as gospel that your event will cost exactly one of the two prices outlined above.Thank you.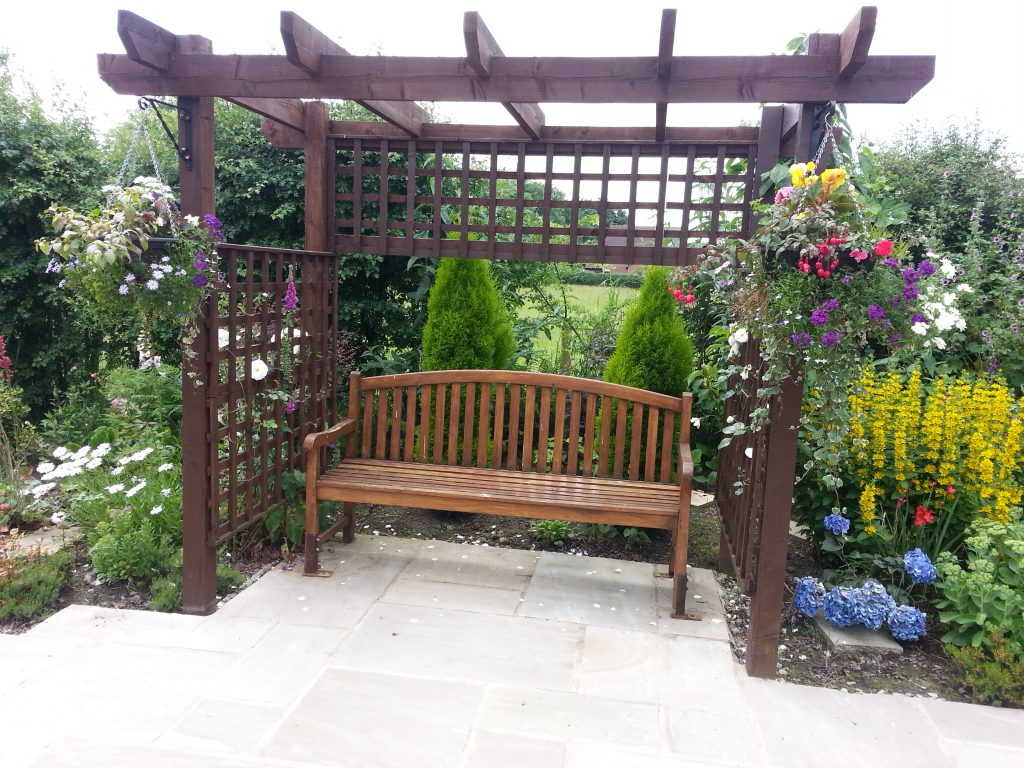 This is our lovely Jubilee Garden which is located at the Small Hall end of the building. It makes for a very pleasant spot for you and your guests to relax if you are having a wedding vows renewal ceremony not to mention a perfect backdrop for some photos of your special day.
Once you have made a firm decision to go ahead at WWMCC please complete our Wedding booking form –  in order to secure your celebration in our diary. As we say on the form, we appreciate that you will not have all the information to begin with but that doesn't matter initially. What does matter is that you complete the form in the first instance. Thank you, we look forward to hearing from you.
Height Restriction Barrier please note that our premises are protected by a height restriction barrier and WWMCC needs to be informed of any suppliers to your event that may be affected by this, of their delivery / arrival times in order that we may lift the barrier.
Useful Links for your Wedding at Woodford
WWMCC's Bar Service – Ben & Ian are on hand to cater for all your bar requirements  tel: 07979 558356
email
A & M Marquees Knutsford – full blown marquees plus linings for inside the Centre
website
Fabulous Together Weddings – brilliant wedding / event planners based in Bramhall
website
Southside PA Woodford – DJ, extra staging, additional lighting, disco system
website
Add a touch of magic to your event with Paul Hazleby magician
website
Lightech for fireworks and amazing lighting
website
 
 
Percivals the Caterers
website
Special Edge Catering Poynton
website
Thyme Outside Catering Didsbury
website
Bowlicious Venue Dressers
website
Connie Johnson – Celebrant
website